Smarter Balanced Assessment
In the spring of 2017, Smarter Balanced Assessments (SBA) will be administered to students in grades 3-8, 10 and 11 in math and English Language Arts (ELA) for the third year. As a result of shifting to Common Core State Standards (CCSS), Washington state mandated that all school districts implement SBA starting in 2014-15. The new assessments are aligned to the CCSS.
Students in the classes of 2017 and 2018 will fulfill their state assessment graduation requirements by passing the SBA in ELA at the graduation cut score level, one math exit exam or the SBA in math at the graduation cut score level, and the Biology End of Course (EOC). Students in the class of 2019 will be required to pass the SBA in ELA and math at the graduation cut score level, as well as the Biology EOC, to fulfill their
state assessment graduation requirements.
CAT is an online testing method. Questions appear based on whether or not a student answers the previous question correctly or incorrectly. This gives a more accurate measure of each student's performance level.
PT are extended activities that measure a student's ability to integrate knowledge and skills across multiple standards—a key component of college and career readiness. Performance tasks will be used to better measure capacities such as depth of understanding, research skills and complex analysis.
Smarter Balanced Assessments are administered online.
When will students be taking these exams?
The state of Washington establishes a testing window in the spring. Our district testing schedule is designed to make the best use of student instructional time and use resources efficiently. The daily testing schedule will be posted on the assessment calendar.
How are we preparing students?
The district has been actively implementing the Common Core State Standards since 2012-13. Curriculum specialists and teachers continue to develop lessons and assessments aligned to the state standards and use them in classrooms. You can learn more about the Washington State Learning Standards at ReadyWA.
Smarter Balanced Assessment
Scale Score Ranges for Levels 1, 2, 3 and 4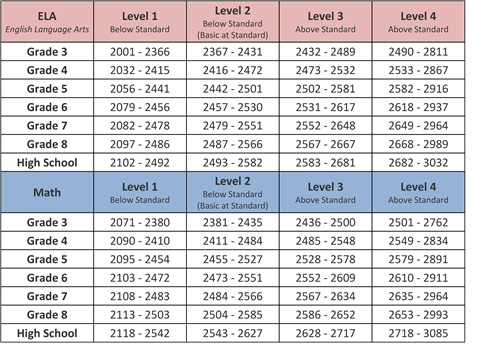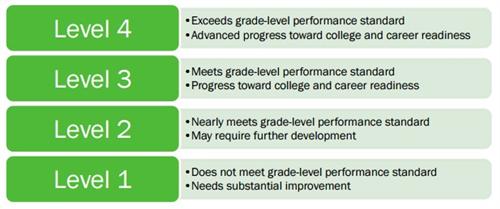 High school cut scores listed above represent college and career readiness level
High School Graduation Requirement Level Cut Scores
ELA - 2548
Math - 2595