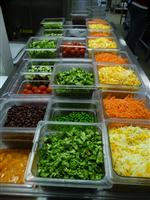 Mission Statement: We are dedicated to helping build strong bodies and minds by creating quality meals and providing individualized service in a safe and friendly atmosphere.
Everett Public Schools Food & Nutrition Services provides a complete breakfast and lunch program for all students which meets or exceeds the nutritional requirements established by the National School Breakfast and Lunch programs. We serve approximately 3,000 breakfasts and 9,000 lunches each day. Breakfast and lunch are available every day at every school.
Everett Public Schools participates in the National School Lunch, School Breakfast, After School Snacks, Fresh Fruit and Vegetable Grant, Summer Food Service and USDA Food Distribution Programs. USDA regulations guide our program.
Department Contact Information:
425-385-4380
Special Diets, Summer Lunch, North End Schools
425-385-4384
Catering, South End Schools
425-385-4383
425-385-4382
425-385-4381
Fax: 425-385-4249


In accordance with Federal Law and U.S. Department of Agriculture policy, this institution is prohibited from discriminating on the basis of race, color, national origin, sex, age or disability.

If you feel you have been treated unfairly, you may file a complaint of discrimination by writing, USDA, Director, Office of Adjudication, 1400 Independence Avenue, SW, Washington D.C., 20250-9410 or call toll free 1-866-632-9992 (Voice). Individuals who are hearing impaired or have speech disabilities may contact USDA through the Federal Relay Service at 1-800-877-8339; or 1-800-845-6136 (Spanish). USDA is an equal opportunity provider and employer.